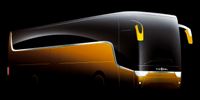 Van Hool to launch TX and ExquiCity ranges at Busworld Kortrijk
Busworld 2011 Kortrijk, October 21-26, will see Van Hool launch its TX range of vehicles. Models from the Alicron to the Astromega have been adapted in line with the latest trends in coach travel. Van Hool says it has re-examined the different facets of a coach and optimised them in line with feedback from operators, drivers and passengers.
The ExquiCity bus platform will also be presented for the first time. Launched at the UITP exhibition in Dubai, it is a Multi Propulsion Platform which will serve as the basis for HQPT (High Quality Public Transport) projects.
The new TX range
Van Hool has constantly kept the concept and technology of its vehicles at the very highest level, while setting new trends with the latest technological applications. For the TX range all elements from climate control to driver's position, from driving behaviour to ease of maintenance, from passenger comfort to entertainment were subjected to critical studies and consequently optimised. The design, both inside and out, was adapted to the latest trends. From Alicron to Astromega, all the coach types were renewed simultaneously.
The new shape and lights give the front a sporty and dynamic appearance, yet one of robustness and safety. The side is smooth and aerodynamic. An important safety advantage is the lowered window at the boarding door and the driver's side. The rear pays attention to safety with LED light blocks and secondary lights.
Inside is a new dashboard with instruments and switches grouped more around the steering wheel. The AS-Tronic's gear lever has been moved to the dashboard so the driver has easy access to his/her ergonomic work position. An easily accessible knob combines a number of functions such as the operation of mirrors, interior lighting and heating. A colour screen keeps the driver fully informed of the operation of all technical elements and settings.
The guide/courier has an extendible worktop with integrated lighting as standard. The external connections for audiovisual applications have been grouped in an easily accessible and shielded location.
New luggage racks increase interior spaciousness, while the integrated LED lighting ensures even light distribution throughout the whole vehicle. The TX has been fully fitted with 19" video screens for improved viewing. New multisets include illuminated touch controls, integrated night lighting and high quality loudspeakers. A new, internally developed climate control system with a number of sensors, separate zone control and an increased capacity guarantees even temperature distribution.
Van Hool has also engineered the complete range to include new generations of economic and environmentally friendly drivelines and is ready for integration of Euro 6 developments.
The familiar names Alicron, Acron, Astron, Astronef, Altano and Astromega remain and continue to be a reference to the height and design of the coaches.
Van Hool retains its flexibility with the new TX range. Many variations and options are possible. A number of them can be seen and experienced in Kortrijk: a glass roof, luxurious seats, individual infotainment systems, and more.
On display will be a TX11 Alicron, TX16 Alicron, a TX16 Astron, a TX17 Astronef, a TX17 Altano and a TDX27 Astromega.
Many coach companies have already ordered TX vehicles.
The ExquiCity
The new BRT vehicles aim to combine bus flexibility with tram efficiency to deliver luxurious, fast and efficient urban transport.
The vehicle presented is a Multi Propulsion Platform, indicating it can be a trolley bus, diesel/electric hybrid bus, fuel cell hybrid bus or full electric propulsion vehicle.
The ExquiCity is offered as an articulated or bi-articulated bus.
TEP (Trasporti pubblici Parma) of the northern Italian city of Parma ordered nine ExquiCity trolley buses from Van Hool and Vossloh Kiepe. Deliveries start in mid-2012.
Mettis, the Metz public transport project, ordered 27 bi-articulated versions of the diesel-electric ExquiCity hybrid. The first vehicle will start a year-long test programme in the spring of 2012.
TMB Barcelona has also already ordered three ExquiCity diesel electric hybrids in the bi-articulated 24m design. Delivery is planned from end of 2012.
Busworld Kortrijk takes place in Belgium between October 21 and 26. Visit www.busworld.org