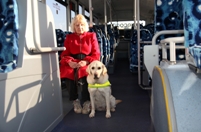 Charity's survey highlights difficulties faced by the visually impaired
A survey by Guide Dogs for the Blind between April and August 2011 has found nearly nine out of ten passengers (87%) with sight loss who took part had at some point missed their stop because they didn't know where they were on a bus journey. This figure rose to 94% for guide dog owners.
Furthermore, 87% of blind and partially sighted people had missed their stop because the driver had forgotten to tell them to get off. This figure increased to 90% when looking solely at guide dog owners.
Guide Dogs said: "This should be a concern for bus firms who claim their drivers are well-trained to assist the visually impaired. Clearly, drivers struggle to remember to help passengers if audio-visual announcements are not in place."
Previous research (Attitudes of Disabled People to Public Transport) revealed that although disabled people travel less often than non-disabled people, they are more likely to use bus services. However, 40% of disabled people said they are fearful of travelling by public transport, as lack of information once they are on board acts as a deterrent.
Some 29% of all blind and partially sighted people report that at some point a driver has refused to tell them when they had reached their stop. This may explain why a number of many blind and partially sighted people lack confidence in their local bus services.
Many guide dog owners have some residual vision, and 70% say they would be happy with a lowtech Audio-Visual (AV) solution, such as the bus driver announcing the next stop on an existing microphone. This is an option for operators who claim implementing AV is too expensive.
According to Guide Dogs, the survey illustrates, despite claims to the contrary, bus firms are failing to make adequate provision for the needs of the visually impaired who want to use their services.
A new pot of cash has been made available by the Government to help bus operators make on board passenger information more accessible, and Guide Dogs has urged them to use it. Transport minister Norman Baker announced a £50m Better Bus Areas fund for bus firms to improve passengers' experiences in December 2011, and guidance issued suggests applications could be looked upon favourably if new ways of giving information to passengers are presented. On board AV systems would meet this requirement.
Other potential benefits of AV include allowing the driver to concentrate fully on driving, and helping many other groups of bus users, such as tourists.
David Cowdrey of Guide Dogs, said: "Some of the stories the respondents told us were awful, including one lady who was almost locked in a bus in a depot for the night because the driver forgot she was there. People are ending up lost or left in potentially dangerous situations because they can't get the information they need.
"It doesn't matter to us whether the AV information comes through sound systems and LCD screens, or the driver simply announces the next stop and holds up a sign. We believe it should be easy for everyone to know where they are."