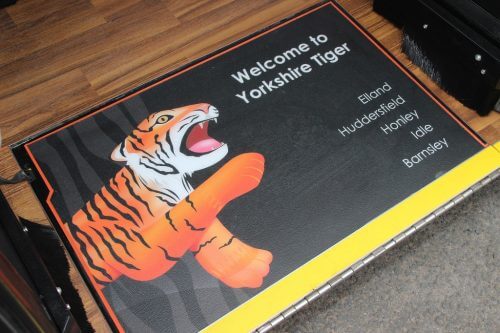 Read Commercials unveiled an Optare Solo at last week's ALBUM conference in Blackpool, which had undergone a striking refurbishment for Yorkshire Tiger. The result belied the fact the bus is 12 years old.
"Refurbishing a Solo was a no-brainer as there are so many around," explained Craig Orrell, who heads up the Oswaldtwistle-based firm.
A striking feature which is sure to be of interest to operators was the wheelchair ramp with a printed on logo, by what Craig called "an emerging firm."
Another feature was the impressive graphics, including a tiger at the rear which was supplied by McKenna Bros. The Camira tiger moquette complemented the Altro contemporary laminate-style flooring.
Craig added: "It's about the attention to detail – we've fitted all-new fixings. Screws for example, cost pennies each, yet they can make such a difference to the end result. We've painted the cab too – an area that is so often forgotten. We've aimed to make it bright but warm inside."
He concluded: "We've put a huge amount of work into this project. It was a part-exchange from Optare. We've got an on-going refurbishment programme with Yorkshire Tiger. The idea is that this bus can enter service straightaway. It will also be used by Yorkshire Tiger for its engagement programme, which involves staff going into schools and talking about bus safety, behaviour and vandalism."