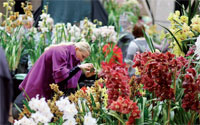 RHS Art Show to include exclusive Hampton Court Palace Florilegium Society exhibit
Royal Horticultural Society is hosting a number of events in London in 2012.
The RHS London Orchid and Botanical Art Show will take place at RHS Horticultural Halls, Greycoat Street and Vincent Square on March 16 and 17, with a special evening preview on March 15.
Specialist growers from across the globe will be exhibiting a spectacular array of exotic and rare orchids to highlight the importance of orchid conservation in the wild.
Exclusively for 2012, Hampton Court Palace Florilegium Society will be exhibiting part of its botanical art collection. This will be the first time the collection has left the grounds of the Palace.
Tickets are £8 per day, or £5 for RHS members, and £12 for the evening preview combined with either day visit.
The show is open between 1000 and 1700hrs on March 16 and 17, while the evening show starts at 1830hrs and lasts two hours.
The RHS Great London Plant Fair will take place on April 10 and 11.
People can stock-up on plants and receive advice from RHS experts on ways to replenish their frost-bitten gardens, while top traders will be selling tools and other essential gardening implements.
Opening times are 1000 – 1900hrs on April 10 and 1000 – 1700hrs on April 11. Tickets are £8 for the first day and £5 for day two, while RHS members get in free.
For groups of 10 plus there are special rates available for both events.
Coach drivers receive free entry and there is free coach parking.
The famous Chelsea Flower Show will again take place this year, between May 22 and 26, although the above coach and group privileges do not apply. Parking is £35 per day, and companies must apply for a police set down/pick up permit in advance.
Contact Ed Horne on 0207 8213356, or [email protected]. For information on the Chelsea Flower Show, email [email protected]