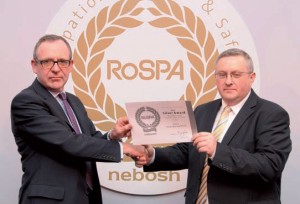 Arriva North West & Wales (ANWW) has had its approach to occupational health and safety recognised in an awards scheme run by the safety charity, the Royal Society for the Prevention of Accidents (RoSPA).
The Silver award in the RoSPA Occupational Health and Safety Awards 2013 was presented during a ceremony at the Hilton Birmingham Metropole Hotel, at the NEC, on May 16, 2013.Dating back 57 years, the RoSPA Awards scheme is the largest and longest-running programme of its kind in the UK. It recognises commitment to accident and ill health prevention and is open to businesses and organisations of all types and sizes from across the UK and overseas. The scheme not only looks at accident records, but also entrants' overarching health and safety management systems, including practices such as leadership and workforce involvement.
David Rawlins, RoSPA's Awards Manager, said: "RoSPA firmly believes organisations which demonstrate commitment to continuous improvement in accident and ill health prevention deserve recognition. ANWW has shown it is committed to striving for such continuous improvement and we are delighted to honour it through the presentation of an award."
Phil Stone, Regional Managing Director for ANWW, said: "We're extremely pleased to have achieved the silver award and have our efforts recognised by RoSPA.
"Health and safety is a key area of importance for us and our priority when it comes to staff and customers. We look forward to continuing to work to these high standards in the future and even aim for Gold in due course."