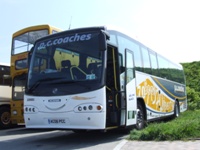 Gwynedd Council reinforces free coach park with better markings after motorists block bays
A key coach parking area has been formally established in Caernarfon, following issues raised by coach drivers in June, The Daily Post has reported.
Calls were made to reinforce the dedicated area as coaches were struggling to find room to park at the existing Old Shell Site behind Morrisons near Victoria Dock, leading to fears the problem could hit the town's tourist trade. In one incident, angry drivers went to nearby Galeri to complain to staff that parking bays designated for coaches had been filled with cars. The two drivers reportedly had to leave their coaches parked in front of the cars, blocking the vehicles in.
Gwynedd Council reinforced the far end of the car park as a specific area for coaches, a move which was welcomed by Caernarfon Town Councillor, Hywel Roberts.
He said: "Following the chaos shown on the front page of The Herald on June 20, I wrote to Aled Davies, head of regulation at Gwynedd Council, to ask that a proper coach park be provided.
"I received a very positive reply but heard that the previous talks about a special coach park had failed and in the present financial climate a similar development would now be unlikely.
"However, he said they would be considering the situation and I was delighted to see they have acted to improve the existing coach park.
"I'm glad Gwynedd Council has listened and taken action as we need the coaches to continue coming into the town."
Motorists however, have taken a more negative view. A car park user from Anglesey, claimed: "This has essentially halved the number of free parking spaces for motorists. It is already very congested during the summer months. This is a problem compounded by a number of caravan and motorhome owners who set up camp there, as well the hotels which encourage their guests to park here.
"In all honesty, it feels like the council wants to force us to use the pay and display which is very expensive if you work here every day. Workers spend in the town's shops on a daily basis and bring a lot of lunchtime trade to businesses, which is often forgotten."
A Gwynedd Council spokesman said: "The markings to the coach bays have recently been re-painted following concerns raised by some, including coach companies who bring visitors here, that motorists were ignoring the signage and causing a hazard by parking in the coach park area."