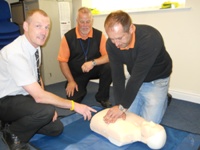 Sleafordian Coaches' Emergency First Aid one-day course has been added to the range of Driver CPC courses offered by the operator after approval from JAUPT.
It is anticipated all of the firm's drivers will complete the course as not only does it count towards their DCPC, it will also mean almost all staff will have an Emergency First Responder qualification which remains valid for two years. This is in addition to the six staff who have already passed the First Aid at Work qualification as part of the company's ongoing staff enhancement programme.
Training Manager Jemma Borrill said: "We believe we will be virtually unique for a company of our size in that over 90% of our staff will have a nationally recognised first-aid qualification. This has enormous potential benefits to them in respect of both their personal and professional lives, and also means our passengers can have the peace of mind which comes with knowing that in addition to driving qualifications and DBS (formerly CRB) checks, it is highly likely that their driver has a first-aid qualification which could save lives in an emergency situation."
Later this year the firm hopes two further courses will be added to its range – a newly updated Customer Service course and 'Safety Practices at work, including Fire Evacuation Procedures'.
MD Mark Broughton added: "We have seen our training centre develop into an extremely versatile facility which offers a one-stop shop for many aspects of training. While Sleafordian Coaches is obviously associated with the passenger transport industry we have made great efforts to ensure the training courses we are providing are relevant for on-going staff development across a range of different industries. To say I am very pleased with both what we deliver and the way we deliver it is an understatement and I am very proud of the way in which my staff have set about putting together an all-round package that offers value for money coupled with great customer service."