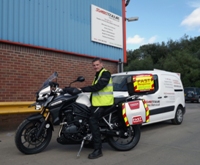 A mobile engineer for heavy-duty lift specialists Somerstotalkare has taken to two wheels to speed up services to customers.
Following a 12 month trial using both a van and a motorbike, Jamie Baker has taken delivery of a new Triumph Tiger 1200 Explorer which will be used for emergency call outs in the London area.
Scott Gilliam, Somerstotalkare Service Manager, explained: "Over the past year we've found that in heavily congested areas such as the capital we can get to customers much more quickly by using a bike.
"For the majority of urgent call outs very little equipment is needed, and it's not often that new parts are required. If they are then a back up engineer can call shortly afterwards, usually the next day.
"On the rare occasion more substantial repairs are required, the rapid response engineer can solve immediate problems, such as lowering the lifts if they have become stuck while lifting a vehicle. enabling the vehicle to get back on the road as quickly as possible.
"The introduction of our rapid response service and investment in the new bike reflects our commitment to looking at innovative ways to improve our service to customers."
Meanwhile Jamie said he's delighted with the new bike and is enjoying the ability to beat the congestion around the city.
"There can be nothing more frustrating than sitting in a traffic jam when you know a customer needs urgent help," he said.
"With the bike, which also looks very impressive, we can dramatically cut the time it takes to get to them. This ensures their workshop is up and running again with the minimum of disruption."