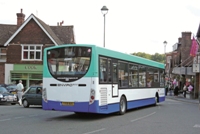 Southdown PSV is providing its customers with a text alert system allied to vehicle tracking.
MD Steve Swain told CBW: "To enhance our customer service we have invested in technology by fitting the entire fleet with satellite tracking. This system is invaluable when customers call to ask when the bus is due. It also assists our drivers regarding alleged early running and when they are operating connecting services. We have also brought on stream a text alert service. Passengers simply text 66777 followed by the bus route they use (eg BUS410). This initial text is paid for by the customer, after which all texts are free.
"By using this system we can keep customers aware of delays. We feel the service will come into its own during bad weather through the winter, a useful tool for country bus operators. We've advertised this new service on our website, Facebook page, bus advertising, local papers and by contacting the schools and colleges we serve as well as informing local councils."
Southdown is employing texting facilities provided by TextLocal, a specialist provider of text information services.
Swain said: "We introduced the changes on November 26. Initial take-up of the text service across our 14 routes has been a bit slow, but is growing steadily. As would be expected, the service we run to Reigate College, used by a lot of younger people, has seen 56 register so far.
"All our drivers are registered on the system so if there is an incident it can be instantly reported and everyone is aware. Just the other day we had a tree down across one of the local roads and it meant we could divert quickly and avoid the area until the road was reopened."