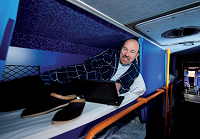 £340m return announced for shareholders following growth in the group's four business areas
Stagecoach has told investors to ignore calls by a shareholder group asking them to vote against the company's recent remuneration report.
The company announced it would return £340m to shareholders, with founders Sir Brian Souter and his sister Ann Gloag receiving £51m and £37m respectively, in a scheme unveiled by the group's remuneration committee last Friday (August 19).
However the Pensions & Investment Research Consultants (Pirc), which advises institutional investors, criticised Stagecoach's move and called shareholders to oppose the package at the company's AGM at Perth Concert Hall on August 26.
Pirc said changing the terms for tax reasons as well as making up the difference after an adjustment is against its best practice guidelines.
A Stagecoach spokesperson responded: "The approach taken ensured the original performance criteria were applied to the awards."
"Frankly, we find Pirc's explanations unclear, inconsistent and illogical and we would advise shareholders to ignore them.
"Other investor bodies, such as the ABI, RREV and Manifest have not expressed the same concerns as Pirc and we continue to believe this was an appropriate use of the discretion of the Remuneration Committee."
Stagecoach finance director Martin Griffiths added: "Our shareholders have made it very clear that they like this – what they don't like is companies that become fat and lazy and sit on piles of cash."
The company last made a payment to shareholders in 2007 when it returned £700m.
Reflecting on the decision, Stephen Joseph, chief executive of the Campaign for Better Transport, commented: "As long as trains and buses are part of the private sector then of course companies will make payouts on their profits, and that's the way it is. But Stagecoach does invest in its bus fleets and in many cases runs good services on the ground."
Stagecoach also released an interim management statement on August 19 showing good growth since April 30 and suggested it was on course to meet profit expectations for the next year.
The group's UK Bus division saw 2% growth for the 12 weeks ended July 24, 2011. In North America the company saw growth of 12.7% for the three months ended July 31.
The company also saw growth in its two other business areas: UK rail operations and its joint venture with Virgin Rail Group.