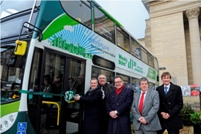 Stagecoach takes its number of hybrids up to 40 in the city
Stagecoach has doubled the size of its hybrid fleet in Sheffield following the launch of 19 new ADL Enviro 400Hs in a £6m investment.
The introduction of the vehicles, which have free WiFi and are now operating on route 52, was celebrated with a day of green activities in the city.
Hallam FM's Big John @ Breakfast show was broadcast live on the 52 and in the city centre, where there was a chance to tour one of the new buses. The public was also treated to a series of green-themed flash mob performances.
There was also an outdoor garden display with hybrid bunting, eco-friendly giveaways and a VIP reception inside Sheffield City Hall.
Paul Lynch, MD of Stagecoach Yorkshire, said: "We have been using this type of bus on the 120 service in Sheffield since September 2011. They have proved extremely popular with passengers and staff so we are delighted to introduce this fleet on what is one of Sheffield's busiest bus routes carrying about six million passengers a year."
Martin Griffiths, who will take over from Brian Souter as CEO of Stagecoach later this year, said: "Stagecoach has a really strong association with the city of Sheffield and the 19 state-of-the-art double deckers are great news for local communities. With 40 electric hybrid vehicles, it makes it one of the cleanest, greenest fleets in the UK.
"Regardless of the economic conditions, we have continued to invest and build our presence in the city demonstrating our commitment to getting people out of cars and onto public transport."
John Smart from South Yorkshire PTE said: "We welcome the investment made by Stagecoach in these vehicles. They are comfortable, quiet and the WiFi will really benefit everyone. Importantly, passengers can be safe in the knowledge they are travelling in an eco-friendly way."