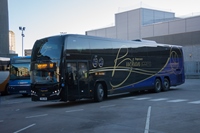 Fleet of 17 Plaxton Elitei coaches in stylish branding to upgrade Buchan Link services
Stagecoach North Scotland has unveiled a fleet of 17 new coaches which are to operate between Aberdeen and the north east coast.
Keith Brown MSP launched the 17 Plaxton Elitei coaches at the AECC to upgrade the Buchan Link services.
The coaches mark a £5.5m investment from Stagecoach North Scotland and will operate on existing routes 60, 63, 67 and 68. The vehicles boast leather reclining seats, free WiFi, toilets, USB charging points and bike lockers. Climate control is provided along with deep tinted windows.
The Buchan Xpress coaches will replace the current Buchan Link Volvo Plaxton Panther coaches which operate regularly between Fraserburgh, Peterhead, Ellon and Aberdeen, carrying 25,000 passengers every week.
The new Buchan Xpress brand has been developed by the Stagecoach team based in Aberdeen.
Steve Walker, Managing Director of Stagecoach North Scotland, said: "This investment is all about delivering better coach services in our area. We are committed to encourage more people to travel by bus and we hope that when the community see the new coaches they will be tempted to use the bus for their journey."
Keith Brown, Cabinet Secretary for Infrastructure, Investment and Cities, said: "It is great to see this superb new fleet of Stagecoach buses, which will bring real benefits for passengers and the environment, hit the road. Alongside investment like this by operators such as Stagecoach, the Scottish Government is investing record amounts in public transport – providing over £250m a year to fund the Bus Service Operators Grant as well as free bus travel for elderly and disabled concession card holders.
"We want to see quality and comfortable alternatives to the car through investment in greener, more efficient vehicles that can help link communities, people, places of business and employment and essential services. The new Buchan Xpress brand is an excellent example of the type of vehicle and service we want to see if we are to make bus travel an attractive option."
INFO
It is worth noting that the public inquiry decision this week only effects the Stagecoach in the Highlands operating area. It has no effect on the new coaches for Stagecoach North Scotland, which are based in the Stagecoach Bluebird operating area