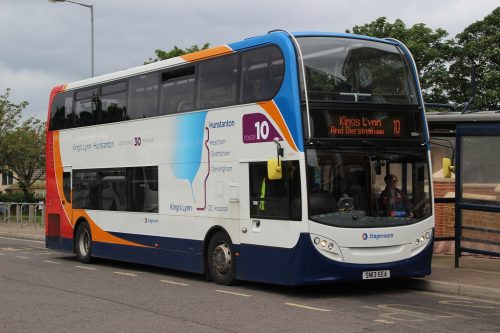 Stagecoach has announced that it is considering the future of its Kings Lynn depot as part of a review into its entire Norfolk operation, Lynn News reported.
The operator said it is consulting staff on the potential closure of the depot, which could see 100 job losses.
Kings Lynn independent operator, Lynx, said it was investigating whether it would be viable to provide replacement services, and was working with Norfolk County Council regarding the existing Stagecoach network, including services subsidised by the council.
Julian Patterson, Director at Lynx, said: "We don't envisage that any locations that are currently served by Stagecoach in Norfolk will be left without a bus service from April 30, 2018. However, due to the relatively short timescales involved it's possible that any replacement bus services that we introduce may not initially operate quite as frequently as they do at the moment.
"As a result of the likely expansion of our business in the near future, we will welcome job applications from those with the PCV driving entitlement on their licence, including those that currently work for Stagecoach, providing that they can demonstrate high standards of customer care and driving abilities. There are also likely to be a small number of engineering and cleaning positions."
Stagecoach took over most of West Norfolk's bus services when it bought Norfolk Green in 2013, but said the operation is no longer economically viable.
Andy Campbell, Managing Director of Stagecoach East, said: "We are a significant local employer and we understand the importance of bus services for the local community. We also know that any change can be unsettling for our people.
"That's why we are working closely with both the trade union and local authority to protect as many jobs and as much of the local network as possible. We're carrying out a consultation and will be working liaising closely with staff during that process.
"However, the reality is that we simply cannot sustain the current operation given the challenging economic climate that we're faced with."
Mick Cash, General Secretary of the RMT union, added: "RMT officials are in urgent discussions with Stagecoach after this bombshell announcement which leaves jobs and services in Norfolk hanging by a thread. It is essential that Norfolk County Council join us in working to protect these lifeline services to thousands of people across their area.
"Stagecoach has only operated Norfolk bus services since December 2013 and serious questions need to be asked as to exactly what has gone wrong and why. RMT's absolute priority is to protect our members and the lifeline services they provide to the local community and the low income, eldery and vulnerable groups without access to a car who would be condemned to lives of transport poverty if routes are axed."