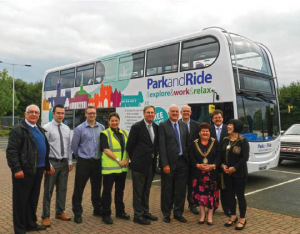 Park and ride services in Canterbury are now operated by Stagecoach East Kent after the firm won the city council contract.
Passengers benefit from a new fleet of six ADL Enviro300 single decks and four Enviro400 double decks, free WiFi and extended operating hours. The new service was launched on October 5.
Stagecoach won the five-year contract following a competitive tender process. The council's previous contractor, Kent Top Travel, chose not to bid after providing the service over the last five years.
Philip Norwell, Managing Director of Stagecoach in East Kent said: "We are delighted to have won the opportunity to operate such an important public service for Canterbury. We are committed to reducing traffic congestion by continually improving public transport and the brand new fleet of park and ride buses, free WiFi and extended operating hours will hopefully encourage more people to use the service rather than driving into the city centre."
Canterbury City Council's Executive Member for Transport, Cllr Peter Vickery-Jones, said: "Park and ride is one of our most important services. Hundreds of thousands of people use it each year and rely on it to get into the city quickly and easily for working, studying and leisure.
"A new contract gives us the opportunity to take advantage of modern technology, such as onboard WiFi, and to ensure we use the latest environmentally friendly buses. We're looking forward to working with Stagecoach in the years ahead."