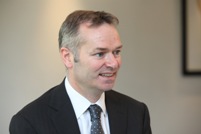 Griffiths warns further reductions in BSOG will lead to investment reduction, fare rises and network shrinkage
Martin Griffiths, Stagecoach's new CEO, has warned the government that further cuts to bus subsidies in the upcoming spending review will force the industry to increase fares, reduce investment and withdraw services, The Financial Times has reported.
Griffiths, who took over the helm from Sir Brian Souter at the start of May, was responding to growing speculation that the Treasury will force through further reductions in BSOG.
"I hope that's wrong and we will be making a case and galvanising industry colleagues into making a case for BSOG and a properly funded concession scheme," he said.
Councils have already had to cut back subsidised bus routes to find funding for free bus passes, which they are obliged by law to provide, while operators were hit last year by a 20% cut in BSOG. A common response from operators is to cut routes or raise fares but Griffiths said this risks sparking a vicious circle of declining patronage.
"Buses underpin so much of what is going on in the country and if we are going to meet the aspirations around economic growth, buses are so important. They get people to work, to school and to the shops," said Griffiths.
"The government doesn't look at how much we spent in the last three years on capital expenditure [on new buses]. It supports investment, manufacturing jobs and new services. If we spend less the manufacturers are going to be squeezed. People have got to think about this quite holistically."
Griffiths said Stagecoach has so far avoided cutting back on services other than "a little trimming" and had held back fare increases as much as possible, although he admitted the average 5% rise was "high for us".
However, he warned that further cuts could be more damaging. "If some of those BSOG cuts made some of our commercial mileage not commercially viable for us we'd have to think about whether it was a service we should maintain."