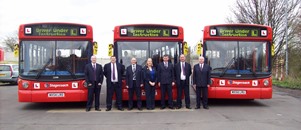 Stagecoach Yorkshire has unveiled six re-liveried and revamped training buses.
The Alexander ALX300 vehicles are some of the earliest low floor buses introduced by Stagecoach and replace the traditional coaches used for training in the past. They feature a new red livery.
Stagecoach anticipates that the vehicles will provide a more authentic driving experience for learners.
The first three of the new-look vehicles are already in use, with all six to be based at the operator's Rawmarsh training depot, which is itself set to undergo a refurbishment.
Stagecoach Yorkshire Training Co-ordinator, Sue Pickering, said: "The vehicles are red on the front similar to the buses our passengers catch every day – where the previous vehicles were blue to distinguish them as a training vehicle.
"The fact they are normal buses, rather than coaches like we've used in the past, means they are the same length as a general service bus, too.
"All of this has been done to create a more authentic feel for the drivers during their training so they can get as close as possible to the real feel of driving our buses across the region.
"But there are also prominent learner plates and signage clearly stating 'driver under instruction' so the vehicles are easily recognisable to the public as a training bus.
"We've completely revamped them inside as well, with lots of facilities for the training school including big tables for a study area for people to use computers and laptops as well as storage boxes full of cones, barriers and other driver training equipment."