Stewarts Coaches of Reading, part of the Kings Ferry Group, commenced operation of a new bus service in Slough on Monday.
The Bath Road Central service operates from Slough railway station to the Bath Road trading estate, stopping at USB, Lonza, 02 Telephonica and Ipsen businesses.
The service is also open to the public for a price of £6 return. Authorised users are issued with a smart card (itso) for use with the Ticketer machines.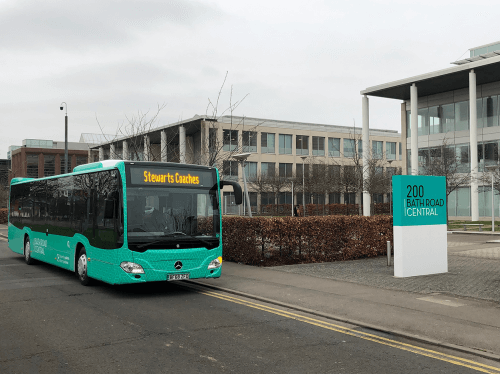 Four new Mercedes-Benz Citaros are operating the service in a light green livery. Vehicles are fitted with free WiFi and audio visual passenger information displays.
Talking about the project, Matt Taylor from Stewarts Coaches said: "Following directly on from our six year contract with Telefonica UK in 2018 the service has been extended to include three more Global companies located on the trading estate in Slough.
To increase Slough's attractiveness as a key location for business the local authority undertook the construction of a bus mass rapid transit route to enable employees to make sustainable transit choices, succeeding in a complex period of negotiation with the four businesses and the local council Stewarts Coaches secured the contract for the new service to start in January 2019."
Matt continued: "Selected by businesses because of our proven track record in the area to supply quality and creative solutions to complex problems, we look forward to seeing this new service grow into a wider transit solution for many more businesses within the Slough Heathrow area into the future."