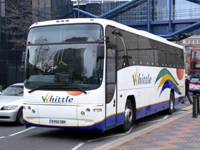 East Yorkshire Motor Services (EYMS) Group has warned of a risk of stowaways aboard Plaxton Panther coaches.
The warning comes after three people crawled out from underneath a Whittles coach when it arrived in Kidderminster on Tuesday, October 4.
The stowaways had sneaked under the 12.2m 2007-registered Plaxton Panther in front of the rear tyres, climbing up through various pipes into a large cavity big enough for three people.
The individuals avoided detection at Folkestone and made no attempt to leave the coach there or at either of the two stops on the return journey. They finally emerged when the coach was put through the wash, though they made no attempt to flee and were apprehended once police arrived.
Peter Shipp chairman of EYMS, told CBW there was no possible way anyone could have detected them unless the panels above and to the side of the rear wheel arches were removed.
"We don't think any form of additional training could avoid this recurring. The only possible and additional measure would be for the driver to stay with the coach, and be vigilant, whenever the vehicle is at the port, adjacent port service areas and duty free retail parks, which may well be impractical," he said.
"It sounds as though these people knew where to go on the coach so the existence of this cavity is probably well-known, although whether they are knowledgeable enough to differentiate one type of coach from another is questionable."