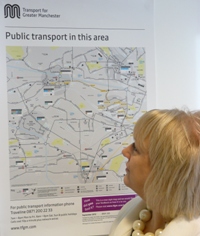 Transport for Greater Manchester (TfGM) is trialling a new style of map at more than 200 bus shelters in the Salford Quays and Trafford Park areas.
The new schematic design has a greater focus on public transport than the previous geographical style map. Bus services have been colour coded by route to make them easier to track and other modes of transport – train, tram and Local Link – are more clearly highlighted.
Key local landmarks and town centres are represented, making it easy for passengers to orientate themselves and track their bus route without the distraction of a heavily geographical background.
Susan Wildman, TfGM Communications and Customer Services Director, said: "We want to make it as simple as possible for people to plan their journey and I think the new-style map is a real improvement.
"The level of visual detail has really been stripped back, making it much easier to see where your bus service goes and where it might link up with local train and tram services.
"We know these maps are very popular and heavily used, so it's important we get the public's feedback."
There are over 12,300 bus stops in Greater Manchester, nearly 4,000 of which have shelters with public transport information displayed.
Smarter marketing and passenger information is part of a host of measures being taken by TfGM in partnership with bus operators. Better bus priority, improved public transport interchange across Greater Manchester and supporting growth at Trafford Park and MediaCityUK are also part of TfGM's Better Bus Area Fund initiative.