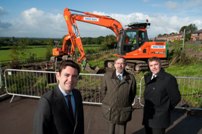 Construction work has started on Greater Manchester's first guided busway.
Transport for Greater Manchester (TfGM) has appointed Balfour Beatty to design and construct the 4.5-mile busway, which will run from Leigh, in Wigan, to Ellenbrook in Salford.
Due to open in 2015, the busway forms part of a 21km high quality bus priority route being developed between Leigh, Salford and Manchester.
Services will run along on-highway bus lanes on the A580 through to Manchester city centre – providing the first cross-city links from Leigh to key employment, education, health, leisure and retail destinations on Oxford Road.
Cllr Andrew Fender, Chairman of the TfGM Committee, said: "This is a momentous day as we start work to deliver this major transport link.
"The Busway is the flagship scheme of a much wider bus priority package – one of the largest investments in Greater Manchester's bus network for decades, with over 25 miles of the network being either created or improved.
"The Cambridgeshire Guided Busway has been successful way beyond expectations and I look forward to seeing the same here."
Cllr Mark Aldred, Vice Chairman of the TfGM Committee, said: "Thanks to the will of the Greater Manchester Combined Authority to get this busway funded, Leigh, Atherton and Tyldesley are in line to benefit from a first class transport link. As well as providing a high quality service, the busway will offer a reliable, shorter journeys."
Peter Commins, MD of Balfour Beatty's North West Delivery Unit, said: "We are thrilled to be starting work on this high profile scheme.
"Our team worked very closely with TfGM during the design phase to ensure the new busway offers convenience and comfort for users. We look forward to strengthening this collaborative relationship during construction."
The 14-stop route (seven in each direction) follows the former railway route between East Bond Street in Leigh and Newearth Road in Ellenbrook.
Walkers, cyclists and horse riders will be able to use a 4.5m wide path along the entire length of the busway, surfaced for use all year round. All stops will include shelters, CCTV and RTI.
Three park and ride sites will serve the busway, providing a minimum of 440 parking spaces. These will be located in Leigh, at Tyldesley Interchange and on the A580 East Lancashire Road near to the M60/61 junction.
The busway will cost £68m. It is being funded through the Greater Manchester Transport Fund, for key transport priority projects.
More can be found at www.tfgm.com/