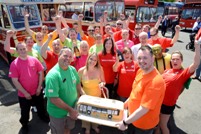 trent barton's 100th anniversary celebration has so far raised more than £5,000 for charity.
Over the last bank holiday weekend, the operator opened the doors of its Langley Mill depot for a fun-filled day involving staff, customers, local traders and community groups.
Thousands flocked to the event, which also aimed to raise money for the firm's 'adopted' charity for the year, The Lewis Mighty Fund.
Jeff Counsell, the Heanor-based firm's Managing Director, said: "The day was a huge success, and we were even blessed with fantastic weather.
"A display of vintage buses attracted a lot of attention and a selection of funfair rides proved a hit with children and big kids alike. At the same time, a number of local community groups were also able to boost their own fundraising efforts with stalls and other attractions."
The Lewis Mighty Fund is a charity set up in memory of the Derby youngster who died from Neuroblastoma, one of the most common forms of childhood cancer. It now raises money for children receiving cancer treatment at Nottingham Hospitals NHS Trust.
Jaime Mighty, Lewis's mum, joined in the party celebrations and said she was delighted at the support the fund has received from trent barton.
"It's fantastic to have such a high-profile company behind our cause and we are very grateful for their help in raising our profile and for the money they have raised," she said.
Jeff added: "I would like to thank everyone who helped to make our special day so memorable whilst raising so much money for a very worthy cause."