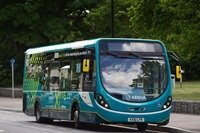 First production buses using the technology could enter service by the end of the year
Torotrak Group and Wrightbus have confirmed the completion of the in-service trial of a Wrightbus StreetLite midi bus fitted with Torotrak's Flybrid mechanical Kinetic Energy Recovery System (KERS).
The trial with Torotrak Group's  was made possible by and conducted with Arriva on a standard bus route in Gillingham, Kent, from March 2015. It successfully demonstrated the performance of the Flybrid KERS under real-world operating conditions including the capture, storage and release of energy from the brakes and the drivability of the system.
Already undergoing detailed testing on rigs and in a new Euro 6 StreetLite bus, the new KERS design is intended to further improve fuel efficiency and reduces the KERS weight and cost, helping to improve the bus operator payback. The new design has reduced parts count and system weight by 30% and 80kg respectively and incorporates a simpler 2x2x2 clutched flywheel transmission system reducing 'coast down' losses and improving efficiency during torque transfer.
Torotrak plans to commence production of bus KERS systems from mid-2016 onwards.
Adam Robson, Torotrak Group CEO, said: "This is a very exciting time for the group with the bus KERS project that started in 2012 going into commercial production from the middle of this year.
"I am delighted with the progress we have made and we look forward to delivering our first systems to Wrightbus during Q3 2016."
The Flybrid KERS for buses uses common materials and manufacturing methods, and removes the requirement for replacement batteries during service life.
The KERS captures the kinetic energy that is normally wasted when the bus is braking and stores it in a steel and carbon fibre flywheel weighing 8.5kg and spinning at up to 30,000 rpm. The energy stored in the flywheel is then delivered back to the wheels reducing the energy that is required from the engine to accelerate the bus and so reducing the fuel consumption of the vehicle.
Brian Maybin, Wrightbus Engineering Director, said: "After the invaluable in-service trials with Arriva, Wrights and Torotrak have confirmed that the next generation of flywheel is now under extensive durability testing, and after successful fuel trials, will be put into service trials from May 2016."