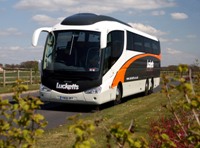 Renowned family-run firm Lucketts Travel, which owns and operates Worthing Coaches and Coliseum Coaches, has been awarded the highest scores possible in two industry audits of its business.
The company was recently audited by CoachMarque and the Guild of British Coach Operators. Both organizations aim to improve the UK coach industry, and work with their members to maintain and improve levels of customer service.
CoachMarque is currently the only quality mark for the coach industry, and requires the company to abide by the highest safety standards and systems of work to promote good quality travel. The Guild is a forum of some of Britain's best quality coach operators, and its audit ensures members continue to deliver top levels of service.
Ian Luckett, Director of Lucketts Travel, said: "With a media focus on coach safety in recent weeks, our industry is very much in the public spotlight. It is vitally important we not only provide the safest and best quality of service to our clients, but we can demonstrate this as well. Our recent 100% pass in these two important audits does just that.
"It reflects the hard work of all of our staff who constantly strive to make each and every passenger's journey safe and comfortable."
Lucketts Travel is based in Fareham, Hampshire.
Lucketts runs one of the largest coach fleets in the south of England. Call 01329 823755. Visit www.lucketts.co.uk