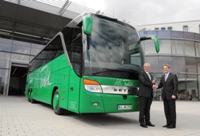 30-seats in a tri-axle touring coach makes for spacious combination
GERMANY Kiel-based AK Touristik is expanding its 'Panoramabus' concept with two new Setra S416HDH coaches. The operator took delivery of its first Setra TopClass 400 coach of this type last year and has now increased its fleet to include three of these luxury glass-roofed vehicles, each of which seats up to 30 passengers in comfort on Setra 'Ambassador' seats arranged in a 2+1 configuration.
AK Touristik GmbH has existed in its current form since 2001 and employs 30 members of staff. The company was previously the coaching division of the longestablished Autokraft Kiel GmbH, a wholly-owned subsidiary of stateowned operator DB Regio AG in the German state of Schleswig-Holstein.
The core of AK Touristik GmbH's tour programme is made up of high-class coach tours to all European countries, operated under the slogan 'Treat yourself'.
AK Touristik's Managing Director Guido Gröpper explained: "We believe our concept is unique in Northern Germany. The 2+1 seating configuration allows us to focus quite consciously on small groups in which passengers very quickly get to know each other, so allowing them to enjoy the places they visit in friendly companionship."
Commenting on the new coaches, Mr Gröpper said: "Setra has managed to meet our high expectations in full, for our firstclass travel programme demands, quite simply, exclusive coaches in which passengers can enjoy, amongst other things, considerable freedom of movement.With these comfortable seats in this particular layout, passengers never need to rub shoulders with their neighbour."
The touring coaches are equipped with, amongst other features, a practical galley kitchen with a 40-cup coffee machine, flat-screen monitors, a leather steering wheel, a reversing camera and a sophisticated audio/video system. Loudspeakers above each passenger seat ensure excellent quality of sound. Along with the familiar Setra safety which include Front Collision Guard (FCG), Lane Assistant (SPA), adaptive cruise control (ART) and Active Brake Assist (ABA), a determining factor in Mr Gröpper's purchasing decision was the widespread coverage offered by the European service network of the EvoBus service brand Omniplus.