The French group is set to expand its operations in North America with the take-over of EQT Partners-owned First Transit
The Transdev Group has signed an agreement to acquire First Transit Inc from current owners EQT Partners to expand its presence in the United States and Canada. Transdev says that combining its expertise in fixed route bus operation and presence in rail with First Transit's complementary positions in shuttle and paratransit services will provide an enhanced public transport offer in the US and Canada, and will further enable the development of mobility services within local communities in the two countries. Transdev says the acquisition will also unlock further growth potential in the ongoing energy transition towards cleaner zero-emission fleets for the local bus sector. The new entity will focus on innovation and expects to see a growing fleet of electric buses, further contributing to the reduction of its carbon footprint; Transdev's 'Moving Green' decarbonisation strategy targets a 30% reduction in greenhouse gas emissions and a 50% increase in alternative fuel fleets by 2030 compared to 2018 levels. The French group said the transaction will also provide new professional development opportunities for employees of both companies.
Thierry Mallet, Chairman and CEO of Transdev Group, said: "By joining forces with First Transit, Transdev will be adding new services and expertise to its US and Canada operations. This acquisition is highly complementary in terms of regional presence and solutions offered. It is also aligned with Transdev Group's Moving Green decarbonisation strategy, and shows our willingness to continue investing in operational technology and fleet decarbonisation to provide even safer and more environmentally-friendly transportation services to communities in the two countries."
First Transit has more than 60 years of experience as one of the largest private-sector operators of mobility solutions in North America. It carries out 300 million passengers trips annually and provides operation, management, and consulting for more than 300 locations in 41 states, four Canadian provinces and Puerto Rico, for transit authorities, state departments of transportation, municipalities, universities, airports and private companies. First Transit employs more than 20,000 transit and maintenance staff, owns or operates a fleet of 12,000 vehicles, and maintains an additional 36,500 vehicles and pieces of equipment through its dedicated maintenance division, including some 240 zero-emission vehicles. The announcement of the acquisition comes barely a year after First Transit's sale to EQT Partners was completed; the company was previously a part of Aberdeen-based FirstGroup until it made moves to sell its First Transit, First Student and Greyhound operations in North America. The sale of First Transit was announced in April 2021, with completion later the same year.
Transdev US is headquartered in Lombard, Illinois. It provides public transit solutions, and employs more than 12,000 employees along with a fleet of 6,300 directly-owned or operated vehicles, including 100 zero-emission vehicles. It serves over 200 communities and facilitates 180 million journeys per year.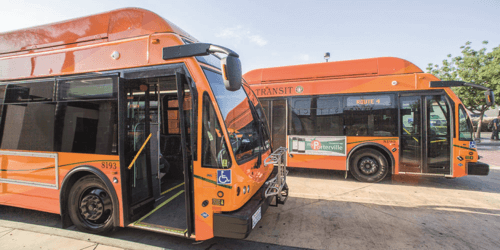 Laura Hendricks, CEO of Transdev US, commented: "I am excited about the opportunity to combine the talents and expertise of Transdev US with First Transit. This move will greatly benefit our clients and passengers with their daily mobility needs by delivering high-quality services and allowing a faster transition to sustainable transportation. We look forward to welcoming First Transit's employees to Transdev and showing new clients and partners how we will best deliver on safe, sustainable mobility solutions."
Transdev Canada, headquartered in Brossard, Québec, has 2,500 employees and owns or operates more than 2,000 vehicles, of which some 60 are zero-emission, serving communities mainly in Québec and Ontario. Arthur Nicolet, CEO of Transdev Canada, added: "The association of both First Transit and Transdev teams in Canada will represent a great opportunity to answer the growing demand for shared mobility in the whole country. We are excited to associate experiences and expertise from many Canadian provinces to support the development of communities coast to coast with safe, green and innovative services."
The new entity will have increased presence in the United States and plans to expand to the western provinces of Canada. With dedicated management teams well anchored in both countries, Transdev says the newly enlarged entity will be managed specifically for each market, with decision-making at a local level in the interest of clients and passengers. The related First Student operation was not included in the transaction.
First Transit CEO Brad Thomas commented: "Over the last few years, First Transit has continued its track record of growth, creating value for our investors, passengers, partners, and employees. As we embark on this new chapter with Transdev North America, we thank our partners at EQT for investing in us and our mission. We are excited about the future and look forward to what is ahead."
During its year-long tenure, EQT Infrastructure says that significant investments were made in First Transit, bolstering the company's organisation, operations, and its digital technology platform.