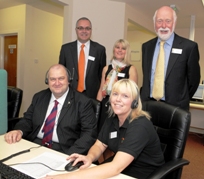 In purchasing the call centre, Traveline Cymru has reduced public spending and brought the public transport information service in house
The Welsh Government's public transport information service recently purchased a North Wales call centre after its owners went into administration.
Twenty jobs at the centre in Penrhyndeudraeth have been safeguarded as a result of the takeover by Traveline Cymru.
The move means Traveline Cymru has brought what was an outsourced service in-house for the first time and will now operate the bilingual call centre to ensure a continued high level of public transport information is delivered in Wales and to save public money by achieving a reduction in the cost of providing the service.
Operating from a community hall in the centre of Penrhyndeudraeth, the call centre handles more than 230,000 calls a year for Traveline Cymru. In addition it provides the booking function for the Bwcabus scheme in rural Carmarthenshire and Ceredigion, the Customer Service function for First Cymru and the Welsh language service for National Rail Enquiries.
Currently running at a rate of 92% customer satisfaction, which is relatively unheard of in a call centre business, Traveline Cymru is now looking to grow the call centre with the aim of it becoming self-sufficient. Schemes already in the pipeline include the GoCymru Smartcard Scheme and the All Wales Car Share Scheme when they go live later in the year.
At the official opening of the newly refurbished and rebranded call centre, Transport Minister Carl Sargeant said: "The Welsh Government-supported Traveline Cymru service continues to go from strength to strength. Awareness and customer satisfaction are also increasing year on year. I'd like to thank those that have orchestrated the successful delivery of the Traveline Cymru service and the new call centre. In particular the Traveline Cymru staff who have managed both the implementation and operation of the service while continuing to enhance the systems and services."
Alan Kreppel, Chairman of Traveline Cymru, said: "Bringing the call centre in house is positive on so many fronts. It secures the future of call centre and staff; it ensures we can continue to maintain a high level public transport information service to the people of Wales and save public money. I am thankful to everyone who has worked so tirelessly to make this happen."
Traveline Cymru is a not-for-profit company based on a partnership between the Welsh Government, public transport operators in Wales and Welsh local authorities. It provides route and timetable information for all bus, coach and rail services in the country via a bilingual website, its call centre and a suite of services for mobile phone users. In addition, it seeks to encourage people to switch to more sustainable modes of travel through events, training and marketing.