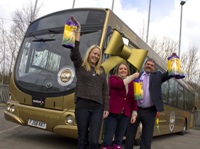 trent barton has provided a seasonal treat for youngsters on the Children's Cancer Ward at Nottingham City Hospital as part of its centenary celebrations.
The operator gave away 100 gifts to mark 100 years of service.
During the unveiling of a special gold-coloured centenary bus, the firm handed over 10 Easter eggs to Jaime Mighty of the Lewis Mighty Fund, which is working in partnership with the hospital to raise money for young cancer sufferers. The fund is also trent barton's adopted charity for the year.
"The eggs will go down a treat on the ward, and the centenary bus also displays our logo which we hope will help to raise the profile of the charity and boost our fund raising efforts," Jaime explained.
The Lewis Mighty Fund was originally founded to help meet the cost of specialist treatment for Jaime's son, but now raises money to help other children after the Derby youngster lost his brave fight against cancer.