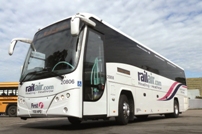 First in Berkshire has introduced two Plaxton Panthers to its frequent railair.com Reading-Heathrow service.
The coaches are built on a 12.3m Volvo B9R chassis and feature a PLS Wheelchair lift at the front entrance with Thermoking air-conditioning throughout the vehicle.
49 Politecnica Relax GTV seats are fitted, along with power sockets on each row. A table is located between the first four offside seats and free Wi-Fi from Icomera is installed, a feature now standard across the railair.com fleet.
railair.com is a non-stop, dedicated coach service running at a frequency of up to every 20 minutes. The service has been in operation for over 40 years.
Matthew Wooll, revenue and marketing manager for First in Berkshire said: "Customer expectations continue to increase, and we are pleased that many take the opportunity to write to us and congratulate our staff for the great service they receive.
"However, we are never complacent and recognise that the vehicles also need to convey the quality message that we aim to deliver on all journeys."