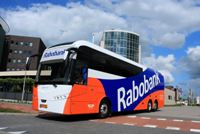 NETHERLANDS VDL Bus & Coach BV and Rabo Wielerploegen BV have signed a four-year collaboration contract.
As part of the agreement, two Jonckheere JSV-134 coaches have been delivered to the Rabobank Cycling Team. They provide exceptionally comfortable transport to each stage and are equipped to provide the cyclists and support staff with every possible convenience.
Both Jonckheeres are 13.4m long and completely customized to meet the stringent requirements of the Rabobank Cycling Team. The specification is geared to provide the cyclists with the care they require during the competitions, including a relaxation room with luxurious armchairs and audiovisual equipment, a kitchen fitted with modern conveniences, showers and a changing room. A powerful generator provides air conditioning and power when the coach is not running. The extra large baggage compartment includes a washing machine for laundering bike clothing while on the road and can accommodate eight bicycles.
The Rabo ProTeam is the top Rabobank Cycling Teams. The ProTeam, with 27 professional cyclists, participates in events such as the UCI World Tour and has been among the world elite for fifteen years. Together with the Continental Team and the former junior team, the ProTeam has achieved more than 1,750 victories.