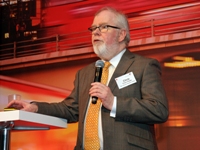 The 2012 UK Bus Awards (UKBA) was launched last week at the Chartered Institute of Logistics and Transport's (CILT) inaugural Bus and Coach Forum Lecture, along with news that this years competition will feature new awards for the Bus and the Community, and a new Local Authority Bus Project of the Year Award. There is also a special oneoff award planned for Transport Heroes of the 2012 Games whilst an existing award will be named to honour the late Peter Huntley.
The new Bus and the Community Award is designed to recognise and reward depots, smaller teams or individuals who work together to help place the bus at the heart of their local communities through charitable work and the giving of time to good causes.
The Local Authority Bus Project of the Year Award is designed for authorities working, either separately or in partnership with operators to deliver projects which can improve local bus services. Designed with the help of ATCO, the award will target schemes that lever in additional funds through government initiatives such as the Green Bus or the Local Sustainable Transport Funds. It replaces the Transport Authority of the Year award.
"Companies all round the country tell us how work on community and charitable projects, helps to cement teamwork within depots and improve cohesion in the workplace," said UKBA chairman John Owen. "It was suggested an award would be a great way of recognising all the hard work which goes on – and we agreed."
Of the new local authority award, John said: "Even in these times of austerity, officers are working hard on schemes which can win funding and make a real difference to customers out there on the ground. We felt such projects deserved to be highlighted and rewarded."
Peter Huntley had a long career within the industry and was involved with many projects, one of which was the foundation of the UKBA in 1995. The management committee was unanimous in agreeing to commemorate his work by naming an award in his honour. "We chose the Making Buses a Better Choice Award that we launched last year as the one which best summed up the breadth of his influence and interests," commented John.
The special award for the Transport Heroes of the 2012 Games will be supported by the Luke Rees-Pulley Charitable Trust, and is designed for any person working for an operator in any capacity in the planning, organisation, management or operation of bus and coach transport services for the 2012 Olympic and Paralympic Games. The popular operator categories are set to be the focus of stiff competition once more.
Full details of the categories and criteria can be found on the UK Bus Awards web site at www.ukbusawards.org.uk.