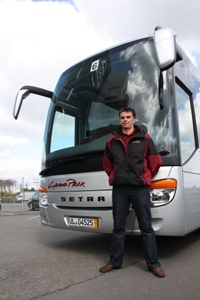 Short-lists announced for Young Industry Professional and Marketing Awards
The competition is hotting up for this year's UK Coach Awards (UKCA), with the final stages of the judging being reached this week. Meanwhile, tickets are selling fast for the glittering Presentation Ceremony, taking place on Thursday April 19 at Manchester's famous Piccadilly Hotel – though there are still seats available.
The judging panel will be interviewing the Young Coach Industry Professionals in London this week, the mystery shopper checks on the short-listed coach operators are almost complete, and final decisions will be made ahead of placing orders for the engraving of the trophies and the printing of the certificates.
The short-list contains coach operators and coach drivers who have been nominated by their customers – group organisers and other coach customers.
The best practice in coach friendliness has been highlighted by coach operators and industry experts. These are categories designed to highlight best practice amongst local authorities, tourist attractions, shopping attractions and service providers in welcoming coaches, their passengers and their drivers to venues all over the country.
There will also be prizes for professionalism in specific aspects of coach operation and management, for coach builders and for providers of support solutions such as software. Several people will also be honoured for their hard work in supporting the industry over many years.
UK Coach Awards director Jamie Cash explained: "Our aim is to recognise the hard work, dedication and professionalism of a whole range of people and organisations involved in coach tourism."
"The judges have been really impressed," said Jamie. "There's original thinking, innovation and exciting developments going on all over the country delivering what matters: better products and better trips for our customers. People really are working very hard, and thoroughly deserve the recognition our awards will deliver on April 19."
Meanwhile, two further shortlists have been announced for the 2012 UKA, as the judging for this year's events reaches its final stages – for the Young Coach Industry Professional Award and the Coach Marketing Award.
The nominees for the Young Coach Industry Professional are:
Mark Pitter, from Coliseum Coaches
Kevin Walker, from York Pullman
Jonathan Pollard, from National Express
The three candidates will each be making a presentation and answering questions from the judging panel.
The Coach Marketing Award category will be fought out this year by two of the industry's giants – National Express and FirstGroup. National Express has been selected for its 'You Know You Wanna' campaign, aimed at the key 16- 26 year old market, whilst rival FirstGroup has been selected for its latest campaign to promote its Greyhound UK brand.
Congratulating the finalists, UK Coach Awards director Chris Cheek explained: "These two awards both address issues which are vital to the future of the industry – strong marketing to persuade customers to use our products, together with talented and committed young managers to take the industry forwards into the next generation.
"The judges are really looking forward to meeting Mark, Jonathan and Kevin this week," he commented. "Meanwhile, judging the marketing award this year is going to be really tough – strong promotion and great customer service are key to winning new customers for all forms of coaching, so it's good to have such great campaigns to choose from."
The UK Coach Awards 2012 received over 200 nominations for 18 award categories, aiming to discover the best coaches, coach companies, coach drivers and coach tour managers as well as the most coach friendly attractions.