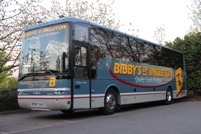 Operators up for awards include Anthony's Travel, Bibby's of Ingleton and Maynes of Buckie
The finalists in the 2013 UK Coach Awards have been revealed, and all share a common ability, according to the Awards organisers. In the words of Chairman Allan Edmondson: "They give their customers a warm welcome and great service."
He continued: "We have been delighted with the spread of entries this year. For the fourth year running, some 200 nominations were submitted for the various award categories from customers who've responded to our appeal to tell us about their experience of quality service and warm welcomes. As well as previous winners, there are several new names in there too, which can only be a good thing for coaching and tourism in general."
The winners will be announced at a glittering ceremony on Saturday April 20 at Alton Towers Resort as part of a weekend of entertainment. The UK Coach Rally will be held over the same weekend, offering a double celebration of all that is best in British coaching and tourism.
The UK Coach Awards approach can be summarised as 'Nominated by customers, judged by experts'. This means customers nominate people and organisations in a range of categories who, in their view, deliver the best service. These nominations are then subject to expert scrutiny, including 'mystery shopping' where possible, and consideration by a panel of expert judges.
"Our aim then is to tell the world about those who are really delivering excellence. That way we can promote coach travel and coach tourism to a wider public, as well as inspiring others in the industry to emulate the best practice we've identified," explained Allan.
Coach operators have been selected by the judges from the nominations submitted by group organisers and other customers from around the country. The eight names who will go head to head for the UK Coach Operator of the Year prize include some of the country's biggest operators, but also small and medium-size family businesses dotted around the regions.
The combined UK Coach Rally & Awards is expected to become one of the leading events in the coaching calendar. For further information on bookings, visit the website at www.ukcra.org.uk.