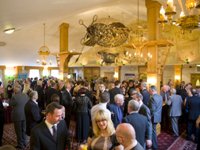 Nominations are being accepted until December 6 for a set of categories which have been revised and refreshed
The sixth annual competition for the UK Coach Awards (UKCA) officially gets under way this week with a revised set of categories, a fresh identity and a new website which offers a brighter look and improved functionality. Nominations are now open and can be submitted until December 6.
UKCA Chairman Allan Edmondson said: "The UK Coach Awards is the only national awards scheme dedicated solely to coach operators and their staff in all types of work. Our new award categories reflect the diverse skills required to deliver high quality coach operations, not only through smart liveries and good marketing, but also excellent customer service. The right people really do make a difference and we are highlighting this in the new competition."
"The revised categories have been designed to cover as broad a spread of activities as possible, and to offer everybody involved both recognition for their efforts and inspiration for the future," Allan continued. "We're therefore offering prizes for excellence in coach operation, and for a wide cross section of our people, including drivers, engineers, young professionals, customer-facing staff and support personnel. Meanwhile a range of technical and professional awards aims to recognise and reward excellence in all the skills needed to deliver a successful and growing business."
For 2014, the awards are maintaining their strong emphasis on getting nominations from the customers – particularly group organisers and tour operators who actually use coaches and know the operators and drivers who serve them best. However, the operating categories have also been opened up to self-nomination, as is done successfully for the UK Bus Awards.
"This scheme is all about highlighting and extolling the skills, commitment and sheer hard work delivered every day by thousands of coach drivers, staff and managers – all devoted to getting people where they want to go, giving them a safe and pleasant journey on the way and a really good time when they get there: we hope everybody will get on board with us," Allan concluded.
The 2014 categories are:
Awards for Coach Operation:
Top Small Fleet Operator (up to 15 vehicles)
Top Medium Fleet Operator (16-50 vehicles)
Top Large Fleet Operator (51 vehicles or more)
UK Coach Operator of the Year (chosen from one of the winners above)
Technical & Professional Awards:
Coach Marketing Award
Coach Travel Programme
Technology and Innovation Award
Making Coaches a Better Choice
ROSCO Award for Innovation in Road Safety
Awards for Industry People:
Top Small Fleet Driver (up to 15 vehicles)
Top Medium Fleet Driver (16-50 vehicles)
Top Large Fleet Driver (51 vehicles or more)
Top UK Coach Driver (chosen from one of the winners above)
Young Coach Industry Professional
Engineer of the Year
Customer Service Award
Support Staff Award
Unsung Heroes Award
Award for Services to the Coach Industry
Entries close on Friday December 6. Judging and mystery shopping will take place soon after, with a shortlist announcement in February. The awards ceremony will take place on Thursday, April 10 at the Mercure Piccadilly Hotel in Manchester.
Full details of all categories and entry criteria, along with entry forms, can be found on the website at www.ukcoachawards.co.uk.