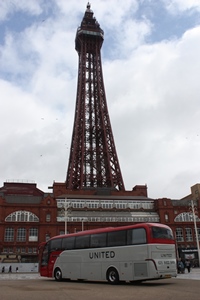 The UK Coach Rally will return to its new seaside venue at Blackpool in 2017, organisers have confirmed. With 44 entries already booked, space is limited – the 2016 event was capped at 50.
One of the organisers, Ann Cousins told CBW: "As the Tower Ballroom has limited availability next April and the fact that Easter is in the middle, we have decided to hold the rally over the weekend of April 29 and 30. Many operators have indicated that they will be bring a tour with them as it is a long weekend, which worked well for at least four operators this year.
"After the 2015 rally at Alton Towers, 15 operators invited my husband Paul to a meeting to plan its future. Their ideas and enthusiasm persuaded us to take the event back to the seaside and together with the support of The Merlin Group and Visit Blackpool, their vision became a reality. Thank you to the operators, our trade exhibitors, visitors and our marshals in making the 2016 UK Coach Rally such a success.
"We have 44 coaches already booked for 2017, an unprecedented number so early, proving that we got it right. We have received so many messages of congratulations which has made all the hard work worthwhile."
For more details and to enter the rally, call Ann and Paul Cousins on 01753 631170 or email: [email protected]. Visit: www.ukcoachrally.co.uk .