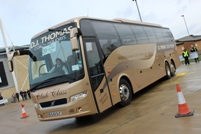 Entries for the Rally competitions for the UK Coach Rally & Awards are well ahead of last year according to the event organisers.
According to Rally Director and Organiser Paul Cousins, nearly 30 operators have already entered the 2013 Rally, with more entries arriving daily. A few of the operators confirmed so far include; Epsom Coaches, Homesworth, City Circle, Blakes, Greys of Ely, DJ Thomas, York Pullman, Stanley Travel, Galloways, Bibbys of Ingleton, Prentice Westwood, Stansted Coaches and Clarkes of London.
In addition, the Exhibitors' Park will be hosting over 20 exciting new vehicles brought by a number of manufacturers, including Irizar, Volvo, Scania and Plaxton.
The combined event, which takes place on April 20-21, is being hosted by Alton Towers Resort. In addition to the Rally events, the annual UK Coach Awards will be presented at a glittering ceremony on the Saturday night.
Paul Cousins said; "We're delighted with the response from the industry, which is well ahead of last year. And we're really looking forward to welcoming old friends and new from the industry to our exciting new venue."
"If you're thinking about entering this year's event, please get in touch with us very soon, as only a limited number of places remain," he added.
With Alton Towers Resort hosting the event, there are opportunities for operators to take advantage of attractive package offers, both for staff and family and for excursion customers.
For more details, visit www.ukcoachawards.co.uk