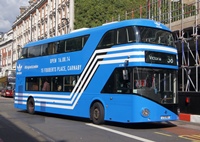 Go-Ahead London has taken delivery of the first production Euro 6 New Routemasters, 39 buses some of which inaugurated the type on route 453 (Deptford Bridge – Great Central Street) from October 18. They operate with the rear platform closed when moving and without 'conductors' as is already the case with routes 8 (Bow Church – Tottenham Court Road Station) and 148 (Denmark Hill/Camberwell Green – White City Bus Station).
Subsequent Euro 6 buses are for Stagecoach London and the London Omnibus Traction Society (LOTS) reports that two of them, LT312 and LT313 are to be trialled in Scotland by Stagecoach East Scotland on route 73/73A (Dundee – Arbroath).
Prior to the 453 there were around 260 New Routemasters operating on eight routes. Figures released show that the average fuel consumption of these Euro 5 buses in service is almost 50% better than vehicles operated on the routes before them. On route 11 there has been an improvement from 4.7mpg to 7.4mpg (57%), route 24 and 390 combined from 5.4mpg to 7.4mpg (37%), route 9 from 3.9mpg to 6.2mpg (59%), service 148 from 5mpg to 6.9mpg (38%) and route 10 from 4.4mpg to 6.5mpg (48%).