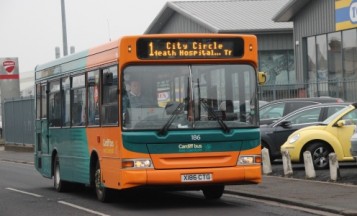 Government admits concessionary fare cuts are wrong but budget still cut from previous levels
The future of the Welsh bus network looks brighter after the Government in Cardiff accepted that its planned cuts to funding for concessionary bus travel were wrong.
Last autumn, it emerged that the proposed cuts would trigger a Judicial Review (JR). This appeared to fall on deaf ears, because bus operators were formally told in March that their total payments for concessionary fare reimbursement would be 11% lower over the next three years – with the budget reducing by £2m each year. Then, on March 19, Stagecoach said it had received legal advice from Herbert Smith Freehills, suggesting key failings in the process the Welsh Government (WG) has followed. The firm suggested the WG had erred in law by unilaterally capping the scheme to fit within an allocated budget rather than following the statutory 'no better, no worse off' principle – and that the WG may also be liable to pay compensation for 'violation of EU law.'
Several operators, including Stagecoach, Cardiff Bus and First began proceedings in the High Court. However, the WG has now averted a potentially costly High Court case – after the case was withdrawn by mutual agreement. The government has now agreed to a less severe cut in the budget for this year and next.
It has also accepted that the budget should rise in line with inflation next year, rather than reducing. Last year's budget was £73.2m – and this year that figure was to have fallen to £65m. However, the government and bus industry have accepted that it should be £67.75m. Next year's total is likely to be £69m.
A Welsh Government spokeswoman said: "Local authorities determine the reimbursement rate they pay to bus operators that carry concessionary pass holders for free, consistent with their obligation to ensure that operators are 'no better and no worse off.'
"The Confederation of Passenger Transport in Wales, representing bus operators, has proposed overall reimbursement levels for 2014-15 and 2015-16 which would enable local authorities to meet that obligation.
"Following detailed negotiations, the Welsh Government issued guidance to local authorities on June 27 that reflects the CPT's proposals."
The CPT put proposals to the government in November, after consultants it had commissioned calculated the payment rate which would leave bus operators no better or worse off.
This figure was higher than recommended by government appointed consultants, and in December a joint study – analysing both consultants' reports – was ordered.
John Pockett, Director of CPT Cymru told CBW: "We're very pleased to have reached agreement with the Welsh Government, which can only be good news for bus passengers in Wales. We look forward to continuing our constructive dialogue with the Welsh Government and local authorities as we move forward."
Conservative Shadow Transport Minister Byron Davies told The Western Mail: "That Edwina Hart (Minister for Economy, Science and Transport) and her officials ploughed ahead with these irrational cuts – despite the clear warnings – is nothing short of incompetent."