Birmingham Airport and Volvo bus partnership promises cleaner travel for passengers
Volvo Bus has been awarded the contract to supply six 7900e full electric, ultra-low emission single-decker buses to provide passenger transport service in and around the airport.
The 7900e is a two-axle bus with four high capacity 50 kWh Nickel Manganese Cobalt batteries and offers zero tailpipe emissions.
The buses will enter service in November 2019, as part of Birmingham Airport's initiative to provide a green transport system.
The Volvo buses will be recharged using the 'OppCharge' opportunity charging pantograph system developed by Volvo and ABB.
Nick Barton, CEO at Birmingham Airport said: "This partnership is a key milestone for us. We are always investigating new and innovative ways to reduce our carbon emissions and through the partnership with Volvo Bus UK, we can do just this.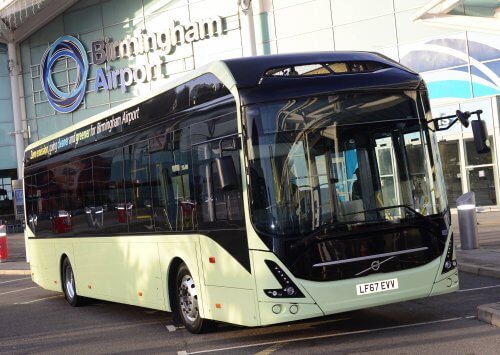 "Since 2012 the Airport has reduced its CO2 by 20% per passenger. Implementing the six electric buses will work towards lowering our CO2 per passenger even further which is just fantastic."
Nick Page, Managing Director of Volvo Bus UK & Ireland, said: "It is very exciting that the 7900e has been chosen for Birmingham Airport in support of its ambition to provide the best possible environmentally friendly bus service for airport customers and stakeholders alike."
Read more bus news here: cbwmagazine.com/category/news/buses