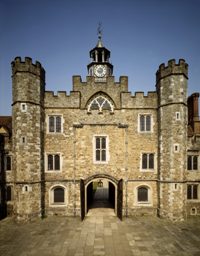 England's forgotten palace features a wealth of significant furniture and portraits
Known as the forgotten palace of England, Knole is one of the National Trust's most important and complete historic houses, preserving the treasures of kings.
The estate is located in Sevenoaks, Kent – exit 5 of the M25. Sat Nav users should use the post code for St Nicholas church, TN13 1JA.
The house is set in a 1,000-acre medieval deer park and is steeped in history. It was once at the centre of court life, and is still a family home to the Sackville-Wests. The new Estate Office Memory Bank retells the stories of the ordinary people who lived and worked there.
As well as seeing how the grand estate was run, visitors can delve into Knole's history in the visitor centre, or relax in the orangery.
Group admission is £10 per adult, or £5.20 for children. For just the garden, adults pay £5 each and children £2.50 each.
There is parking for three coaches, 60 yards from the house entrance.
Tours of the park are available daily when the house is open.
The house is reputedly a calendar house, with 365 rooms, 52 staircases, 12 entrances and seven courtyards.
Many other guided tours are available at an extra cost. These include a tour of the house's portraits, featuring paintings by Sir Joshua Reynolds, Kneller and Van Dyke; an insight into the royal furniture, which highlights the unique collection of royal Stuart furniture; and a tour of Lord Sackville's private garden. The garden is best viewed in May and June. The first two tours are £5.50 per person while the latter is £3 per person.
There is a tea room which services morning coffee, lunch and afternoon cream teas. It is open on selected weekends outside of the season.
The house is open between March 10 and November 4, Wednesday to Sunday, while the garden is open on Tuesdays between April 3 and September 25.
Group bookings should be made by emailing [email protected] or ringing 01732 462100.