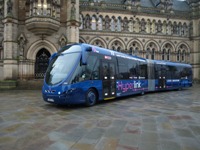 The new Leeds-Bradford 'Hyperlink' service was officially launched in Bradford's Centenary Square on Wednesday, October 24.
First worked in partnership with West Yorkshire ITA (WYITA), Metro, Leeds City Council and Bradford Metropolitan District Council to establish a rapid transit style service between Leeds and Bradford. The first vehicles went into service on Sunday, October 28 and link Leeds, to Bradford along the existing service 72 route.
First has refurbished its fleet of Streetcar vehicles for the service and rebranded them 'Hyperlink'. The vehicles boast a range of extra facilities such as free Wi-Fi, leather seating and new ticketing systems.
Other investments in the route include a greater frequency of seven minutes during the Monday to Saturday daytime period and customer service training for staff.
The service is part of a long term project with Metro and the Bradford and Leeds Councils to deliver key local policy objectives.
These include:
Helping to achieve future employment and population growth in Leeds and Bradford
Supporting targeted regeneration initiatives and economic growth in deprived areas
Improving access for jobs and services, as well as reducing congestion from regional roads
First invested £400,000 in the project to refurbish the £6m fleet, along with a high profile marketing campaign along the corridor and in the local media.
The campaign involves local radio and newspapers, along with outdoor media along the route and targeted mailing offering the public a chance to sample the new service for free.
The local authorities have supported the project and provided an initial £74,000 for improvements to street infrastructure. Future phases of the project will consider the feasibility of new bus priority schemes. First has committed to reinvest any surplus resources as a result of these improvements into further frequency and network enhancements.
Dave Alexander, Regional MD for First in the North of England, said: "Hyperlink is an exciting, strategically important, partnership project which brings significant economic and social benefits.
"We will continue to work with our partners at WYITA, Metro, Leeds and Bradford Councils to help us achieve our joint aim of achieving passenger growth leading to a more sustainable transport system in West Yorkshire."