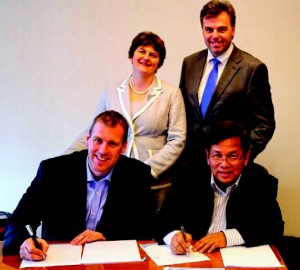 51 triaxle double deckers being supplied via Masdef International
Wrightbus International, in partnership with Volvo Bus, has secured major orders from Hong Kong operators New World First Bus Services Ltd (NWFB) and Citybus Limited (CTB) for 20 and 31 new double deck buses respectively.
The vehicles will feature Wrightbus bodywork on Volvo triaxle chassis and will be assembled in Malaysia by Wrightbus International's new partner, Masdef.
This is the first order Wrightbus International has won from NWFB and CTB, who will deploy the vehicles on routes in Hong Kong. The orders are for 50 fully air conditioned tri-axle Wrightbus double deck buses on Volvo B9TL Euro 5 chassis specified at 11.3m length with a total passenger capacity of 128 and one evaluation vehicle built to a length of 12.8m (total capacity of 150). The vehicles will feature the Wrightbus Gemini 2 body-style which is already popular in Asia Pacific.
Wrightbus International is responsible for the assembly of the vehicles and has recently signed an agreement with Masdef, who have been appointed as the company's assembly partner and distributor of its product range in Malaysia.
Qualified personnel from Wrightbus International have relocated to Masdef's manufacturing facility in Puchong, just south of the Malaysian capital Kuala Lumpur, to support training of the workforce. Assembly will start in mid 2014, with vehicles due for delivery in January 2015.
"This is a highly significant order for Wrightbus International" said Business Development Director Steve Harper. "Working closely with long term partner Volvo Bus, we have been able to secure, what is our first order with NWFB and CTB. The new partnership agreement with Masdef is an important part of our strategy to extend our presence and capability in the region and will hopefully provide a springboard for further future developments."
Arlene Foster, MLA Minister of Enterprise, Trade and Investment had the opportunity to meet Masdef and witness the partnership agreement signing during her recent visit to Singapore. Minister Foster welcomed the new orders for Wrightbus International saying: "The company's partnership agreements with Volvo Bus and Masdef have proved to be a successful way to secure valuable business with new customers such as NWFB and CTB. I hope these contracts will help Wrightbus International leverage future business in the region."