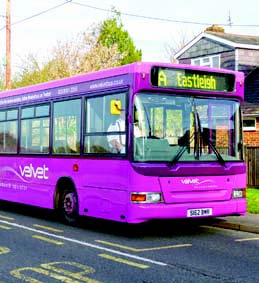 Xelabus is no longer acquiring fellow Hampshire independent bus operator Black Velvet Travel.
Last Wednesday (March 5) a story was released to the media announcing agreement had been reached for the deal to proceed, which would have seen a transfer of ownership completed by May 1. The move would have seen a rationalisation of Velvet's route network and close integration with Phil and Gareth Blair's existing Xelabus business.
However, as this issue went to press on Monday, Phil Blair told CBW: "I had intended to take the Black Velvet company but the plan has changed and its business as usual for Phil Stockley owning that company."
Phil Stockley told CBW: "Phil made an offer out of the blue for the business which we decided to accept; and the contracts were signed and the deal announced last Wednesday. However, 24 hours after the sale was agreed – having legally committed – Xelabus decided the deal would no longer go ahead.
"Part of the deal was that I was going to stay on for two months as Director and Traffic Manager to give them time to make their own arrangements. I was concerned that a long period of doubt and uncertainty could damage my ability to fulfil my statutory responsibilities. After further talks, we therefore agreed some compensation to enable us to release them from the purchase agreement. It's now very much business as usual here."
Black Velvet Travel was formed in November 2007 and is 51% owned by Phil Stockley, with the remaining shares being owned by friends and family members. Xelabus was formed in November 2010 and is owned by Philip Blair, with his son Gareth Blair also a director. Philip Blair is also the owner of marketing company PB Bus Marketing.