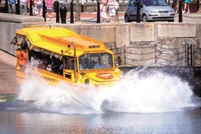 Licence is suspended following two sinkings, with a warning recorded against the former Transport Manager's licence
The company behind the Yellow Duckmarine tour buses, which sank twice in Liverpool earlier this year, has had its licence to run them on roads revoked.
At a public inquiry in Warrington, Deputy Traffic Commissioner Simon Evans said Pearlwild Ltd's fleet of four buses must not return to the city's streets.
Former transport manager Linda McVey was also warned over her professional repute and competence after admitting she had been 'casual' in her approach to supervising maintenance.
The company is now in administration and none of its former directors were present at the hearing. Mr Evans said an investigation into the sinking incidents, in March and June this year, was ongoing.
The hearing was told vehicle examiners had concerns over the braking systems, steering and other parts of the craft, DUKWs which were originally built in 1943.
Mr Evans said he believed the vehicles would have been affected by submersion in salt water, placing a "premium" on strict maintenance regimes.
He added that Ms McVey had admitted there had been a falling off in her visits to the operation, and that it was clear she had not met Neville Kelly, a director of the company who gave evidence to a previous hearing.
Mr Evans found there had been a material change to the company's circumstances due to it entering administration.
On this basis he revoked the licence and recorded a warning against Ms McVey.
Mr Evans said he would make no findings on other matters pending an investigation into the sinkings by the Marine Accident Investigation Branch, which was still at an early stage.