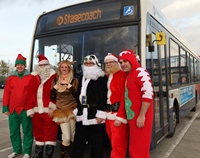 Throughout December, bus drivers and other members of staff from Stagecoach North East's depots in Newcastle, South Shields, Sunderland, Stockton and Hartlepool have swapped their uniforms for festive costumes in a bid to raise funds for local charities.
To bring seasonal cheer, staff have also been handing out gifts such as sweets, angels and other festive novelties, hoping to raise funds for the much loved local charities and the previous year's total of £19,315.
The drivers can be seen driving around the city in festive wear throughout December, hopefully attracting plenty of attention and donations from passengers and the public.
Bus driver David Kenney, aged 60 from the Walker area of Newcastle upon Tyne, said: "Every year the response from the public is really positive, it's fantastic.
"Everyone loves Santa Claus and I think it has become a part of the build up to Christmas in the community. It's just good fun and certainly gives a great atmosphere on the buses.
"We are collecting funds for Tiny Lives and Children North East as they are charities on our doorstep, popular with the team and so a natural choice for us."
Fellow driver Graham Thompson, aged 33 from Seaham in County Durham, who works at the Sunderland depot, said: "Getting dressed up really cheers people up and brings a smile or even a laugh, which is nice at this busy and sometimes stressful time of year.
"I really want to say a big thank you to everyone who supports us, as it is really their generosity which makes the difference."
The charities being supported this year also include Butterwick Children's Hospice, CLIC Sargent, Sunderland Cardiac Support Group, St Benedict's Hospice and Hartlepool Hospice.
Phil Medlicott, Managing Director at Stagecoach North East, said: "This has become a popular feature on our buses over the years and the drivers and staff really enjoy spreading some seasonal cheer for our customers.
"We are always happy to support the fund raising activity of our team and hope that with the help of our passengers we can raise some much needed funds for both of these popular local charities."