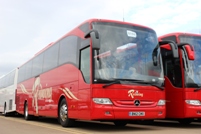 Renowned London operator Redwing Coaches has received 14 new Mercedes Tourismo luxury coaches. Ordered last September at a cost of £2.8m, the vehicles arrived on schedule in March.
After thorough mechanical checks and test drives the new coaches were put straight into service and can now be found operating across the UK and Europe.
The new coaches, built to Redwing's specification, replace an equal number of existing coaches in the firm's 75-strong fleet. They are a mix of 49 seaters with washroom/WC and 53 seater standard luxury coaches.
This latest delivery is part of Redwing Coaches' policy of regular fleet renewal. This means the company consistently has one of the youngest and most technologically advanced large fleets of luxury coaches in Europe.
A spokesman for Redwing Coaches told CBW the company looks at renewing its fleet at least every four years, which can result in a yearly influx of eight to 14 coaches, occasionally more. He said: "The fleet is predominantly Mercedes-Benz so we order them regularly to keep in line with the rest of the fleet and for a sense of conformity."