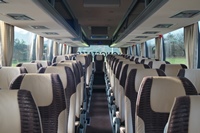 Newer coaches and livery for Northumberland operator as it plans to grow its own tours and private hire business
Northumberland coach operator Longstaffs has unveiled a new look on the latest addition to its nine-strong fleet.
The first full-size coach to sport the firm's impressive new livery is a tri-axle DAF-powered Van Hool T916 Astronef, which has been acquired from Moseley PCV, complete with its theatre-style seating.
"Longstaffs has been in existence for 90-odd years. We bought the business three years ago," explained Managing Director Glyn Griffiths, a former Co-director of Cardiff-based Venture Travel, who previously worked at Llantwit Fardre-based Bebbs.
"When we bought the company, its focus was on local private hire. We've moved into the market for third party tour work and we're now looking to increase our own tour work, hence the acquisition of the Van Hool."
Commenting on the new livery, Glyn told CBW: "The days of running white-based vehicles are gone – you've got to stand out from the crowd. We hope that the new livery will help to increase our profile. We've had some good reports so far – it's certainly turned a few heads."
A 10-metre Van Hool TX11 is due to join the feet in the next couple of weeks. The coach, which has also been acquired from Moseley PCV, will be delivered in the new livery.
On that note, Glyn said: "Moseley PCV has been great to deal with. We have found the team there to be very helpful and supportive. We've also been pleased with the standard of the paintwork Moseley PCV has applied to the Van Hool coaches."
The graphics have been designed and applied by Michael Gray, a local supplier, work which Glyn described as "Excellent."
Based at Amble, near Morpeth, Longstaffs also operates four Neoplan Tourliners. While they will remain in the firm's current white-based livery, the new colour scheme is expected to be applied across the fleet over the next couple of years.
For more details, call Longstaffs on 01665 713300. Visit www.longstaffstravel.co.uk.