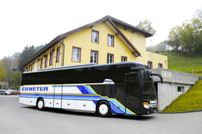 SWITZERLAND The latest delivery of an S 415 GT-HD at the end of October was a special cause for celebration for Gebrüder Ebneter AG in the Swiss town of St. Gallen – it was the 50th new Setra the company has purchased.
Ebneter's tour operations are currently run by the third generation of the same family. They operate a total of nine vehicles. The company was originally established as a greengrocer's business by Johann Ebneter, grandfather of the current managing directors Stefan and Urs Ebneter, in 1933. The next generation of the family, Hans Ebneter, developed the company as a transport and travel operator, buying the company's first Setra in 1956.
"The compact shape and integral body construction of the Setra S 6, together with its new-style rear-mounted engine, offered a very convincing package in every respect," reminisced Hans Ebneter at the handover of the milestone vehicle.
This loyalty to Setra remains part and parcel of the company's activities to this day. The family-run firm has remained faithful to the Ulm bus brand's coaches over the years and through all the various model series. All in all, the company now has one of the largest and most up-to-date fleets of buses in the whole of eastern Switzerland. Gebrüder Ebneter AG's extensive brochure encompasses day trips as well as city tours and cultural minibreaks throughout Europe.