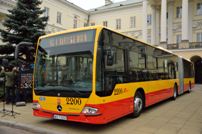 POLAND The first batch of Mercedes-Benz Conecto articulated buses, from a total of 60, have been delivered to Warsaw public transport company Miejskie Zak?ady Autobusowe Sp. z o.o. (MZA). For Mercedes-Benz, this is a significant achievement as it marks a return of the brand to Warsaw's streets after an absence of several decades.
MZA currently owns 1,300 buses and is in the process of modernising its fleet to provide greater levels of passenger comfort, lowfloor accessibility, environmentally friendly drive systems and higher safety standards. All 60 Conectos are to be powered by EEVcompliant engines.
Five 22 inch (56 cm) monitors are installed in each bus. They display news, advertising and information about what's going on in the city. There are also two 38 inch (96 cm) screens which are used exclusively for showing route information, transfer points and stopping points. Passengers can also use the free WiFi. A high-performance air conditioning system keeps the driver's cab and saloon comfortable at all times.
The Conecto articulated buses in their contrasting signal yellow and traffic red livery are being produced at the Mercedes-Benz bus plant in Hosdere, Turkey and will all have been delivered to the customer by December 20, 2012. The 18m lowfloor bus can carry up to 160 passengers.
A handover ceremony for the new buses was attended by the Deputy Mayor of Warsaw, Jacek Wojciechowicz. Roman Biondi of Mercedes-Benz Omnibusse EvoBus GmbH. handed over the symbolic key to the bus company.