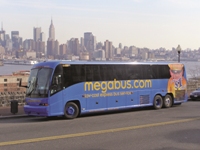 California and Nevada become latest states to be served by network in North America
USA Stagecoach Group has announced it is expanding its megabus.com network to cover California and Nevada.
New express coach services were due to start running on December 12 to eight new locations in the two states, namely: Los Angeles, San Francisco, Riverside, Sacramento, San Jose and Oakland in California – and Las Vegas, Sparks/Reno in Nevada.
All fares have been priced at $1 for the first week of travel from December 12 to 19.
The expansion means more than 120 destinations are now covered by megabus.com in the United States and Canada. It comes only six months after megabus.com launched a new network of routes in Texas.
The growth has created 80 new jobs, bringing the total new positions created by the company to more than 1,000 since it started services in North America in 2006.
Dale Moser, President and COO of megabus.com in North America, said: "We've seen impressive growth across North America. As well as helping connect people across the United States and Canada, we've also created hundreds of new jobs. We are confident our 21st century double-decker buses with WiFi and power outlets, combined with our outstanding prices, will prove popular with people in California and Nevada."
Megabus.com has also partnered with Clean Air-Cool Planet, a national non-profit organisation which works to reduce carbon emissions and help create a sustainable environment. Megabus. com donated $1 to Clean Air-Cool Planet for every new Facebook friend and Twitter follower added on November 28.
Closer to home, a fleet of 11 15m-long coaches equipped with free WiFi is being delivered in December for megabus.com routes covering Scotland and England. Included in the order is a coach in a special metallic version of the megabus.com livery to mark the 10th anniversary of the budget service in 2013.
For comprehensive details of the megabus network, visit www.megabus.com.