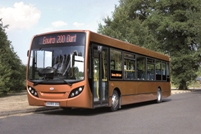 Coach and bus manufacturer Alexander Dennis Ltd (ADL) has been given a £50,000 fine after a worker was injured by a steel floor platform which slipped while being lifted into position, the BBC has reported.
On September 16, 2009, Plains, North Lanarkshire Resident Samuel Murray was working in a welding bay at ADL when he was injured by the 120kg platform. He suffered four broken teeth and a deep cut to the chin which required emergency dental treatment and stitches respectively, Falkirk Sheriff Court were told.
Murray had placed extensions on the forks to move the platform but did not properly secure them or the load he was carrying. Following the incident a health and safety executive (HSE) investigation found ADL had not properly assessed the risks in transporting, handling and positioning floor platforms onto bus chassis.
The HSE investigation found that workers were simply relying on the weight of the platform as the only way of securing it to the forklift truck while it was transported. It also revealed that ADL had not provided employees with a safe system of work for the task.
Inspector Matthew Ramsey explained: "This incident was entirely foreseeable and if Alexander Dennis Ltd had taken simple steps to identify the hazards in carrying out this routine lifting task it would never have happened.
"Moving the floor platforms and placing them on to the bus chassis was a regular task. Alexander Dennis Ltd should have ensured that their workers had been trained on a safe way of carrying out this routine operation."